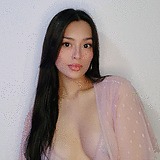 Penny Profile
I am penny a tender and very funny colombian girl and I am ready to fulfill all your fantasies.
I like to go to the cinema, jogging, eating ice cream, listening to good music and sharing with nice people.
"Dont worry be happy" the title of my favorite song.
I do not like people with bad vibes.
INFORMATION
Date of birth:
July 19
Zodiac sign:
Cancer
Chinese sign:
Rat
Favorite day:
Saturday
Favorite color:
Pink
Favorite animal:
Dolphin
Favorite food:
Korean food and italian food.
Penny Gallery