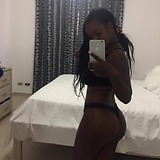 Kiky Profile
Hey boys, im fun , i coud like to show you how im,
the people who block me loose alot.
I'm a 21
-year-old Haitian with attitude to spare. So don't expect a sweet little girl-next-door type. And, in case ya'll didn't notice, I got curves to spare too. So if you like your boobies big, you're in the right place.
Haiti got its troubles, so I went next door to the Dominican Republic. Here I like to hang with friends and enjoy a chilled life. But I also got a wild side. Life is too short to be boring. How wild do I get? Well, you'll just have to meet me and find out. So make sure you add me to your favs. Holla if you wanna chat.